The Best Desktop
PDF to Excel Converter
Able2Extract is the most powerful PDF to Excel converter designed with MS Excel users in mind:
Quick and accurate automatic PDF to Excel conversion
Customize PDF to Excel output to your specific needs
Batch convert whole folders of PDFs to Excel
Use conversion templates on similarly formatted files
Convert any printable file format to Excel
Download FREE Trial
Get License
Custom PDF to Excel conversion
Custom PDF to Excel is Able2Extract's most distinctive feature that allows you to save hours of time spent on re-formatting converted spreadsheet data.
The software comes with the custom conversion panel that lets you manually control how your tabular data is converted. Designate spreadsheet rows and columns, add or delete tables, adjust headers and footers, re-plot tables and manage named table structures. Able2Extract also allows you to preview the spreadsheet results prior to conversion.
The overall result? Perfectly formatted Excel spreadsheets every time!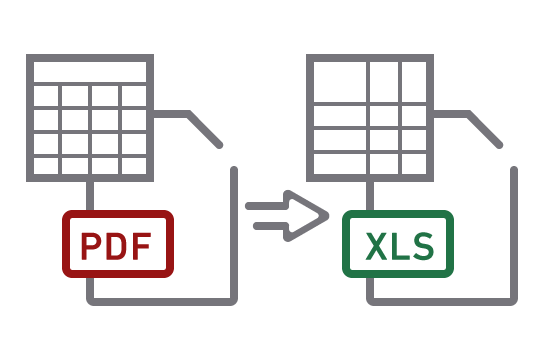 How to convert PDF to Excel
Converting PDF to Excel with Able2Extract is quick and easy:
Open a PDF file in Able2Extract.

Click on the Excel icon.

Click on the Convert button for automatic PDF to Excel.

Save your converted file by clicking on the Save button.
Note: To extract just a part of the document, drag-select the content for conversion or use the Selection options in the right-side panel.
PDF to Excel Conversion Examples
The following are some PDF to Excel conversion examples using Able2Extract: